Hardscaping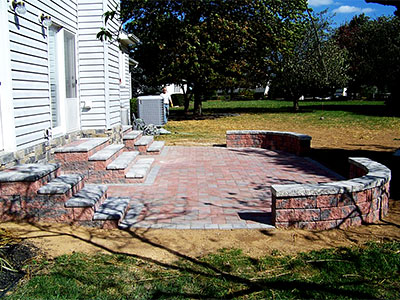 Designing a stunning landscape takes a significant amount of creativity, the right knowledge, choice of proper materials and high-quality workmanship. It's important to focus on aspects such as aesthetics, functionality as well as durability while installing any masonry features in your landscaping. This is exactly why you need the services of experienced and reputed hardscape contractors for your project.

We at Driftwood Lawn Care & Landscaping, LLC are a full-service landscaping and hardscaping company offering the best services at the most competitive pricing. Our company caters to clients in and around Cecil County, Chesapeake City, and Elkton.


Residential and Commercial Hardscapes
It's been great to help clients upgrade the look and value of their properties in Havre De Grace, Newark, and North East. Many clients throughout Nottingham, Oxford Perryville, and Port Deposit trust only us for all their residential and commercial hardscaping needs.

We handle hardscape design and installation for new landscapes as well as in yard upgrade projects. Regardless of whether you need a new driveway installed or an entire commercial hardscape designed, we are the experts to call. Our company is certified by NCMA (National Concrete Masonry Association) and every installation we handle will be completed to industry standards.


Design Aspects for Hardscape Installations
Hardscaping involves everything ranging from the design and installation of driveways, walkways, pathways as well as retaining walls and more. As a company that has been operating in this industry for over nine years, we have developed the expertise and skill to tackle every job expertly. Regardless of the feature we are planning and installing for you, our team adopt a very methodical approach to the job. We take into account aspects such as:


Available space
Type of natural stone feature and it's styling
Materials to be used
The design aesthetic that needs to be achieved
Maintenance aspects
Your preferences and ideas
Your budget

When you call us with your requirement, our team will work very closely with you to understand what you want to achieve in terms of functionality and aesthetics. The idea behind these detailed discussions is to ensure that the final product exceeds your expectations. We never compromise on the quality of the materials and workmanship used in any project, ensuring the durability and longevity of every feature we install.


Creative Hardscape Design and Planning
Every hardscape element that we build for you, to be it a patio, walkway or driveway, will be stable and strong and add value to your property. Our aim is simple- we want to provide our clients with low maintenance, functional and long-lasting features that they can enjoy for years to come.

We have the ability to handle hardscaping projects for residential and commercial clients. Since we are a local company, we are easily accessible and can cater to all your hardscaping needs. The focus is on providing top quality, customized hardscaping services to our clients.

The Driftwood Lawn Care & Landscaping, LLC team recognizes the importance of reliability and quality. This is reflected in every hardscape planning and construction project we handle. For any more information on our services or hardscape installation cost, feel free to contact us at 410-658-8856 or this toll-free number-888-811-0246. You can also Contact Us via this online form and we will respond shortly.