Retaining Walls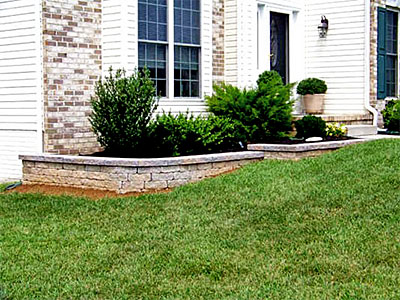 When a landscape is being planned and the various features installed, care and needs to be taken to ensure that the land is leveled perfectly to support the construction above it. There are times when outdoor spaces on a property have sloping land or don't have the right grading.

In situations such as these, it becomes necessary to carry out some excavation and grading work before any features are installed in that space. However, it is also important to install retaining walls that are specifically engineered to provide support and increase the sustainability of your landscape.


What are Retaining Walls?
These walls are typically made of concrete masonry blocks. They are different than standard garden walls or boundary walls. A retaining wall is designed to prevent soil erosion and support backfill when sloping land is excavated. We at Driftwood Lawn Care & Landscaping, LLC are a full-service landscaping and hardscaping company offering the best block wall installations. Our company caters to clients in and around Cecil County, Chesapeake City, and Elkton.

It's been great to help clients upgrade the look and value of their properties in Havre De Grace, Newark, and North East. Many clients throughout Nottingham, Oxford Perryville, and Port Deposit trust only us for all their retaining wall design and build needs. Driftwood Lawn Care and Landscaping is a licensed hardscape retaining wall contractor through the National Concrete Masonry Association (NCMA). From retaining walls, garden walls, to free-standing walls, we can build and meet your needs.


Creative Retaining Wall Design Solutions
We use only the highest quality of block. Including, but not limited to, EP Henry, Techo-Bloc, and Versa-Lok. Using our design or yours, the walls we construct will last you a lifetime and require no maintenance, giving you beauty and peace of mind. We are local operators that have a very strong presence in this industry. Over the last nine years since our inception, we have moved from strength to strength.

We have worked ceaselessly to ensure that our residential and commercial clients get top-notch services at the most cost-effective price points. We understand exactly how important retaining wall construction is to the overall stability and sustainability of your landscape. This is why we focus on the smallest details of retaining wall construction. There is never any compromise on either the design aspect or workmanship.


Custom Retaining Wall Design
We are very creative in our approach to designing hardscapes and this is reflected in our retaining wall plans as well. We understand that clients want to make maximum use of the available outdoor spaces. This is why the work closely with them to design and construction built seating walls or planter walls for their properties. Over the years we have successfully completed construction of retaining walls for multi-leveled or terraced landscapes as well.

Our customized approach and personalized touch are the aspects that set us apart from other retaining wall installers in the region. We at Driftwood Lawn Care & Landscaping, LLC recognize the importance of reliability and quality. This is reflected in every retaining wall planning and construction project we handle.

For any more information on our services or block wall cost, feel free to contact us at 410-658-8856 or this toll-free number-888-811-0246. You can also Contact Us via this online form and we will respond shortly.