Paver Walkways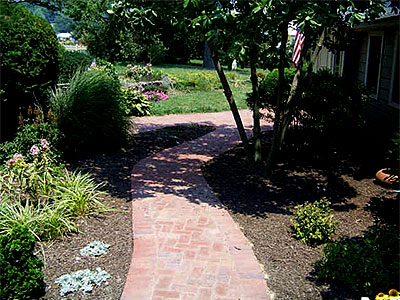 We at Driftwood Lawn Care & Landscaping, LLC are a full-service landscaping and hardscaping company offering the best paver walkway installations.


Paver Walkways Planning
Our company caters to clients in and around Cecil County, Chesapeake City, and Elkton. It's been great to help clients upgrade the look and value of their properties in Havre De Grace, Newark, and North East. Many clients throughout Nottingham, Oxford Perryville, and Port Deposit trust only us for all their walkway design and build needs.

Constructing paver walkways is much more than just choosing paver stones and installing them randomly in a landscape. These installations can provide usability only when their location and design is planned to perfection. If your walkway is part of a broader landscape design and construction job then our professionals will ensure that it is strategically placed to provide maximum functionality.

If you need walkway installation as part of a landscape upgrade project, we will make sure that the materials used in this structure complement the rest of the features that already exist there. As skilled and experienced landscape and hardscape designers and planners, we know what it takes to create walkway designs and plans that improve the accessibility to various spaces in your yard or landscape.


Commercial Walkway Plans and Designs
Our company handles commercial walkway design and installation jobs with the same level of expertise and skill as residential projects. These installations are not just larger in scale, but more complex as well. However, we work very closely with our clients to make sure that their paver design is in-sync with the exterior design of their building structure.

We will ensure that your walkways are planned perfectly and that the base preparation is up to industry standards. Using top quality paver stones made of concrete, natural stone or brick helps ensure the longevity and stability of the feature. We never compromise on the quality of our work, and you can rest assured that the paver walkways will create the impact you want.


Cost-Effective Paver Walkway Installations
These low maintenance features will provide you the functionality you need and increase the value of your home or commercial property. Our focus is always on customization and to create unique walkway designs and plans. Regardless of whether you want a simplistic walkway or a more elaborate one with raised stone edging, we can design the feature you want.

We at Driftwood Lawn Care & Landscaping, LLC recognize the importance of reliability and quality. This is reflected in every walkway planning and construction project we handle. For any more information on our services or walkway installation cost, feel free to contact us at 410-658-8856 or this toll free number-888-811-0246. You can also Contact Us via this online form and we will respond shortly.