Paver Driveways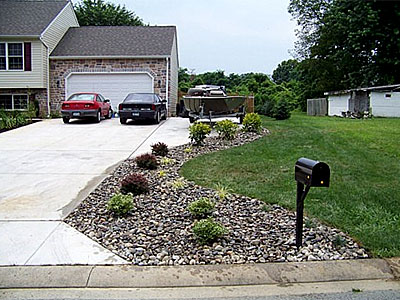 We at Driftwood Lawn Care & Landscaping, LLC are a full-service landscaping and hardscaping company offering the best paver driveway installations. Our company caters to clients in and around Cecil County, Chesapeake City, and Elkton. It's been great to help clients upgrade the look and value of their properties in Havre De Grace, Newark, and North East.


Best Paver Driveway Design and Plans
Many clients throughout Nottingham, Oxford Perryville, and Port Deposit trust only us for all their driveway design and build needs. As a local company that has been operating in this industry for over nine years, we are easily accessible. Our focus is on providing top quality, customized residential and commercial driveway planning, and construction services.

Every driveway that we design will be planned to perfection and only top quality materials will be used in the work. Today, paver stones come in a range of styles, sizes, pictures, designs, and shapes. We use our creativity, experience, and skill to create paver driveway designs that are appealing, functional and extremely durable. We understand that this feature has to endure vehicular and foot traffic as well as regular wear and tear.

It's exposed to the elements day in and day out. Over the years, these surfaces can begin to look dated and dull due to all of these aspects. One of the best ways to ensure that your driveway is able to stand up to the elements and look great is to use the best materials & craftsmanship in the work, and that's what we focus on.


Paver Driveway Installation - The Work Process
Regardless of the size and scale of the job, we follow a very detailed and set work process while designing and installing natural stone paver driveways:


We provide all the information you need about the different paver products available on the market. This helps you make a better-informed decision about the look you want to achieve in your driveway installation project.
Once you have approved the materials and the quote, we will complete the work in the most expert manner.
Our team of professional paver installers will ensure that the base of the installation is compacted and prepared well before installing the individual units.
The edge restraints and supports will be installed to provide stability to the structure.
We will also sand the joints and seal the surface if required. This process helps increase the resilience and longevity of the feature.
Custom Designed Paver Driveways
Every single stage of the job would be overseen by skilled and experienced on-site supervisors ensuring that the project is completed to industry standards. We are certified and licensed paver installers that never compromise on quality

Driftwood Lawn Care & Landscaping, LLC recognizes the importance of reliability and quality. This is reflected in every driveway planning and construction project we handle. For any more information on our services or natural stone paver driveway cost, feel free to contact us at 410-658-8856 or this toll-free number-888-811-0246. You can also Contact Us via this online form and we will respond shortly.